Are you looking for a unique and unforgettable getaway that combines the thrill of outdoor adventure with the comforts of a luxury hotel? Look no further than the Safari Sun Glamping Tent at Country Road Cabins in Hico, West Virginia. Nestled amid the scenic beauty of the New River Gorge, this one-of-a-kind glamping experience promises to take you on an extraordinary journey, offering a perfect blend of nature, relaxation, and excitement.
Glamping, short for glamorous camping, is a modern concept that allows travelers to immerse themselves in the great outdoors without sacrificing the amenities and comforts of a traditional hotel. It's the ultimate way to blend the ruggedness of camping with the luxuries of a high-end resort. And Country Road Cabins has mastered the art of glamping with its remarkable Safari Sun Glamping Tent.
The Location: Hico, West Virginia
Nestled in the heart of West Virginia's Fayette County, Hico is a small, charming town that acts as the gateway to the majestic New River Gorge National Park and Preserve. Known for its rugged landscapes, dense forests, and stunning waterfalls, the New River Gorge offers a wide array of outdoor activities for adventure enthusiasts and nature lovers alike. From hiking and rock climbing to white-water rafting and zip-lining, there's something for everyone to enjoy. 
The Safari Sun Glamping Tent: A Luxurious Oasis in Nature
Country Road Cabins' Safari Sun Glamping Tent is an architectural marvel designed to provide a seamless blend of luxury and natural beauty. The tent is incredibly spacious, giving guests plenty of room to relax and unwind after a day of exploration. The interior is thoughtfully adorned with plush furniture, fine linens, and rustic decor that evokes the feeling of a high-end safari lodge.
Equipped with all the essential amenities, the Safari Sun Glamping Tent boasts a comfortable queen-sized bed, air conditioning and heating, electricity, and private bathrooms with hot showers. It's an oasis of comfort amidst the wilderness, offering you a peaceful night's sleep under a canopy of stars.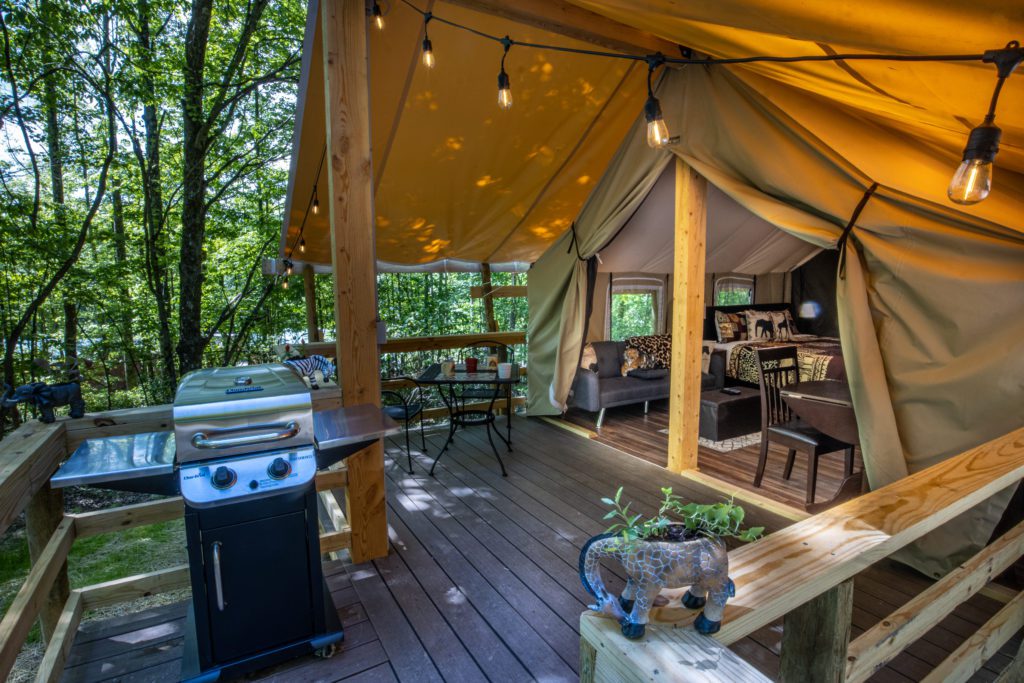 Explore the New River Gorge
While the Safari Sun Glamping Tent provides an unforgettable experience on its own, the real charm of this destination lies in the vast array of outdoor activities available just beyond your doorstep. The New River Gorge is a playground for adventure seekers, offering an endless list of things to do. Embark on a thrilling white-water rafting trip on the New River, hike the numerous trails to discover hidden waterfalls, or try your hand at rock climbing on the towering cliffs that overlook the gorge.
Savor the Views: Your Private Deck
Step outside the tent, and you'll be greeted by your own private deck with breathtaking views of the surrounding wilderness. Whether you choose to enjoy your morning coffee here or unwind with a glass of wine in the evening, the deck becomes your personal slice of paradise to soak in the beauty of nature.
After a day of adventure, return to your glamping retreat to unwind and recharge. There's no better way to relax than sitting by a crackling fire, roasting marshmallows, and sharing stories with loved ones. The tranquil ambiance of the Safari Sun Glamping Tent allows you to immerse yourself in the serenity of nature without compromising on comfort.
The Safari Sun Glamping Tent at Country Road Cabins in Hico, WV, offers an experience like no other. It's an opportunity to escape the mundane and embark on an adventure that redefines luxury and nature. Whether you're seeking thrilling outdoor activities or simply yearn to unwind in a peaceful setting, this glamping tent has it all.
So, if you're ready to unleash the adventurer within while savoring the comforts of a lavish retreat, pack your bags and head to Country Road Cabins. The Safari Sun Glamping Tent awaits you, promising memories that will last a lifetime in the enchanting beauty of West Virginia's New River Gorge.
So, what are you waiting for? Luxury cabins, built with families in mind, in an area of endless adventure & activity. Book Now or give us a call at 304.658.5267 for more information!